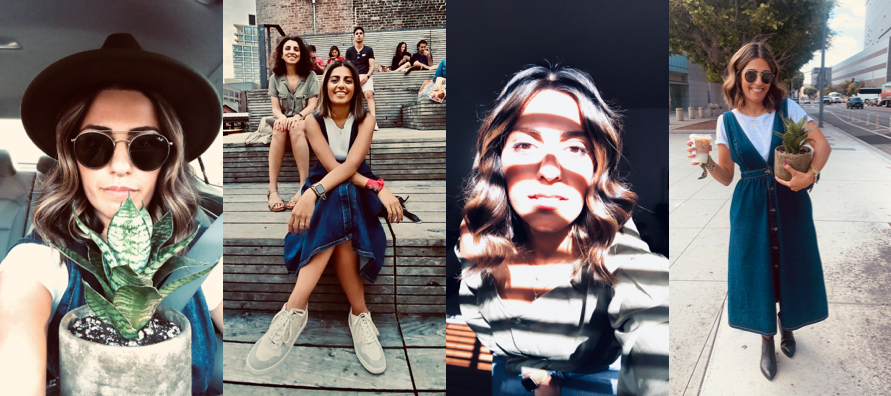 My name is Kimia. I was born and raised in Tehran and I currently live, work, and play in Los Angeles. I have built my career as a designer working in many industries, ranging from professional sports to media, retail, tech startup and even government. I am fluent in Persian, English, Chinese-Mandarin and I can also speak Spanish and French. Yes!! I LOVE learning languages!! I believe that my tools to
communicate across functional and cultural boundaries afford me a unique perspective as a designer to build empathy and solve problems
in ways that many people can't. I have sought out these multicultural, cross-industry experiences as opportunities to develop my personal design language.
And as you can tell by my pictures, I'm also obsessed with plants. :)
It's no accident that I am a UX/UI designer. Art, design- these are inextricably linked to a culture's language. I was a language major in college, driven by the desire to explore our world and connect with people in an authentic way-  nothing to be lost in translation. I'm grateful to have a career that thrives with my passions. I have a longing to understand the complex thought process of the human brain in their day to day interactions with others or things, and I believe this is derived from my problem solving mentality whether in my personal life or on a digital screen. I know this requires an appreciation of scientific and psychological studies in some complicated cases in particular, so I nourish this understanding by reading, experiencing, failing and doing it all over again. But I also believe that if I listen, empathize and use my interpersonal skills I am able to turn my best interpretation into a functional designed experience for my users.  
When it comes to interface design style, I'm all about minimalism with thoughtful surprises that makes the design engaging and edgy yet intuitive.
I'm currently taking new clients and would love to talk to you about what you're working on and how I can help you! If you have a need for thoughtful design solutions, I have an extensive background ranging from user experience design, user interface design, information architecture, wire-framing, user research, market research, prototyping, usability testing to creating marketing/email campaign assets, A/B Testing and so on.